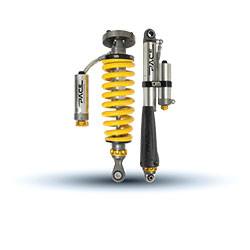 TJM XGS PLATINUM SERIES LIFT KITS.
TJM XGS Suspension is designed to elevate your vehicle's core potential and your own driving experience. An XGS Lift Kit will make your truck more comfortable over changing terrain while improving how it responds while braking, accelerating and cornering. Meanwhile, in addition to added ground clearance for overlanding and offroad driving, XGS Suspension offers outstanding load-carrying and towing capabilities compared to your vehicle's standard suspension system.
Engineered for harsh environments.
TJM XGS Suspension takes monotube shock absorbers to the next level. Built for heavy-duty use, XGS shocks are nitrogen charged and feature an impressive 20mm hard-chromed piston rod, 46mm big bore piston, floating piston volume control and a threaded body for infinite ride height adjustability (struts only). However, they're also able to dynamically adapt to changes in terrain and driving conditions thanks to their Multi-Stage Velocity-Controlled Valving (MSVC Valving), giving you a smoother and more intuitive ride whether you're driving around town or barreling down an off-road track.
Travel further afield with confidence using TJM XGS Suspension. Internally, TJM XGS shock absorbers boast high-grade damping oil that reduces oil, combined with the monotube floating piston design, prevents oil 'foaming' and declining performance during your offroad adventures. These features allow XGS shock absorbers to perform at a high level for longer, which is why all TJM XGS shock absorbers and struts are backed by a 3-year, 60,000-mile warranty.
| | |
| --- | --- |
| Design | Monotube |
| External construction | Seamless welded steel design |
| Piston size | 46mm |
| Piston rod diameter | 20mm hard-chromed |
| Ride height | 2-3" Lift (Depending on Application) |
| MSVC Valving (Multi-Stage Velocity-Controlled Valving) | Yes |
| N2 Charged | Yes |
| Bushings | High-quality rubber bushes designed specifically for off-road use. |
DESIGNING AND MANUFACTURING
SERIOUS 4WD EQUIPMENT SINCE 1973.