The call of the wild, the serenity of nature, the break from constant notifications, and the cherished stories exchanged by the campfire. These are the moments that make camping in the U.S. a memory to treasure. Yet, for those adventures that stretch beyond a weekend getaway, ensuring comfort is crucial. Because let's face it, the beauty of America's great outdoors can lose its charm if you're shivering, soaked, and sleep-deprived.
Wondering how to find that sweet spot? How to dive deep into nature while still enjoying some of the comforts of home? Here's your guide to achieving that ideal mix.
Setting Up Your Comfy Campsite
Your tent isn't just a place to sleep; it's your wilderness retreat. To enhance your camping experience, think about adding an awning, essentially extending your living space outdoors. With added walls, you're protected from unpredictable weather. If you're camping with a group and multiple vehicles, setting up awnings can create a communal feel, almost like a mini campsite community. And for those looking for top-notch quality, TJM Awnings are a solid choice, offering easy setup and various sizes.
Light Up Your Evenings
While the starry American sky is a sight to behold, it might not always light up your campsite, especially on overcast nights. Proper lighting, from campsite lights to vehicle-mounted options, can transform your nighttime experience. It's not just about comfort; it's about safety too. Consider options like Compact Work lights or Motion Sensor Camping Lights.
Sleep Like You're At Home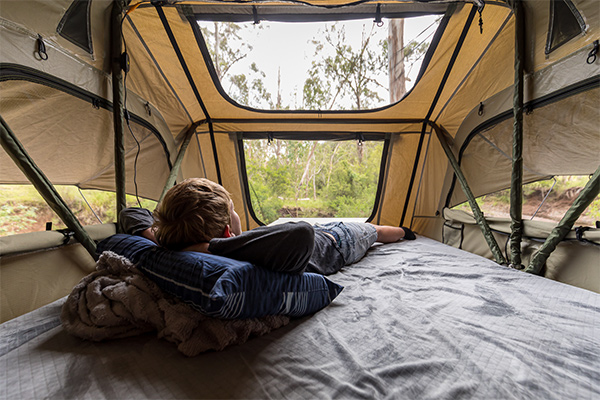 The importance of a restful night's sleep can't be overstated, even when you're out camping. Thankfully, you don't have to settle for a rocky, uncomfortable night. From Double Swags to camping stretchers, dome tents, and premium camping mattresses, a peaceful night is within reach. If you're heading to chillier spots, high-quality sleeping bags or inflatable airbeds are essential. For a touch of luxury, the TJM Soft Shell Roof Top Tent offers features like waterproofing and a special stargazing window.
Step in Comfort
Nature is full of surprises, and while the thought of walking barefoot might sound freeing, it's not always practical. Quality camping mats can make all the difference. For those damp days, the TJM Waterproof Ground Mat ensures you stay dry.
Sit Back and Relax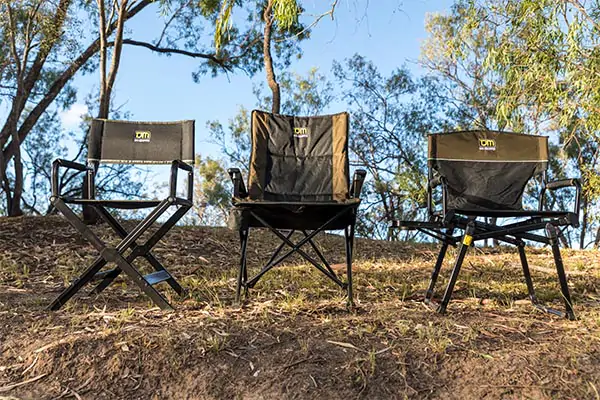 Comfortable seating can elevate your camping experience. While hauling outdoor furniture might seem like a chore, with the right vehicle, it's worth it. Items like the TJM High Back Chair and Camp Table are versatile, ideal for dining or just kicking back.
Cooking and Staying Warm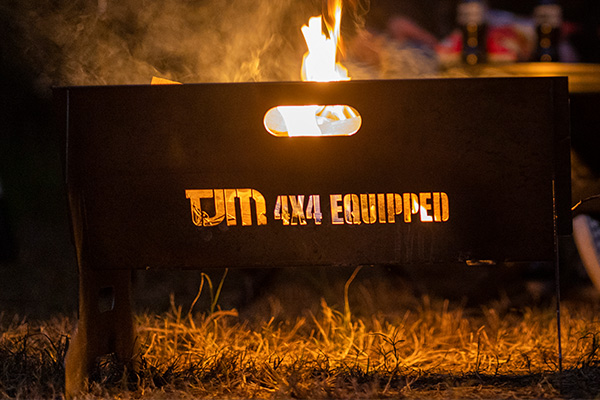 A Fire Pit isn't just for warmth; it's the campsite's centerpiece. It's where meals are made and stories are shared. Its multifunctional nature makes it essential, whether you're craving s'mores or a morning brew.
Packing Smart
Lastly, think about transportation. A camper trailer can be a game-changer. It not only optimizes space in your vehicle but ensures you have all you need without skimping on comfort.
In the end, camping is an art. And like any art, it demands the right tools and approach. With this guide, you're ready to explore America's vast landscapes without leaving the comforts of home behind. Gear up, hit the road, and embrace the adventure!